Some live blogging and thoughts from the 2019 European First Year Experience Conference in Cork, Ireland. Thoughts and comments are my own.
This page will contain some live blogging and thoughts from the 2019 European First Year Experience Conference in Cork, Ireland.
Thoughts and comments are my own, and don't represent those of the conference or my employer.
More information about EFYE 2019: Visit the CIT / EFYE Website
Come check out our Show and Tell (Session 3.6) – Room B234: 10AM on Tuesday
---
Tuesday - 12.07
Good morning!
There's three key reasons why I've not done any live updates today so far:
There were so many questions from our show and tell that I had to stop over and help with that. That's of course a good thing… Right?
The show and tell sessions are so conversational, just typing onto a laptop isn't a good look.
I left my glucose meter in the car. Doh!
I do however have an image of the morning. This one is from
Dr Michelle Morgan (ItSE) @it_se
.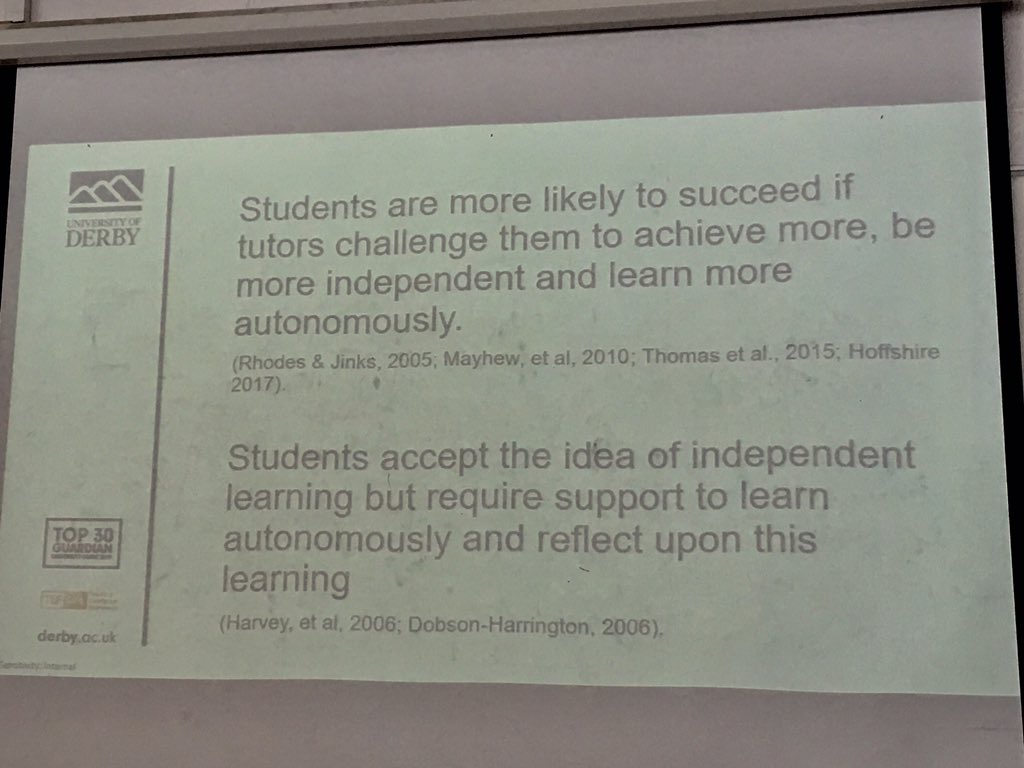 Monday - 17.33
Interesting point from the University of Limerick over students 'remembering' emails. So even though they may not directly interact with them, they are 'taking notice' of them.
I feel as if a poll on email efficiency in students is on the list of things to do this conference! It is of course worth noting that even between courses (let alone university), there can be such a variance. Some of our Masters students for example, deal with 200+ emails a day in their job, so email is still the 'default' for them.
Monday - 17.25
Well, our session at EFYE 2019 is in the books!
Thank you to everyone who managed to make it to a (Slightly warm) session. If you missed it, you can download the slides from our presentation at this link. The BCU CEBE contingent will be here all week, and will be happy to answer any questions you have. You can also come and see our Show and Tell session tomorrow at 10AM tomorrow in B234.
Now listening to a very interesting session about how the University of Limerick use student feedback to demonstrate impact of their student transition programme.
This is an issue that we have faced in terms of developing our programmes, providing evidence for academic papers as well as 'bidding' for money. Quite often, this is hard to quantify, and even though we have had people judge impact on 'Pounds saved', deep insight is a complicated area to get around. Afterall, you want the student's key message to be success, not scores on a survey, right?
Monday - 15.17
Ok, back in a few. Wondering also: where can I charge a Macbook?
Monday - 15.16
#CoffeeTime!
Monday - 15.08
"Student expectations are inappropriately shaped by the media & secondary schools": This is so true!
I wonder, 13 years on the impact of Skins on university perspective on one side of the spectrum, and Gilmore Girls on the other. I also feel that there's so much 'Window dressing' at Open Days that masks the full task ahead to students. I remember once putting together an 'Honest' presentation about student life as a student for Applicant days, then being barred from using it for being just that, 'too honest!' (I'll try and find this presentation, I'm sure it's still on my Dropbox).
Waiting until Induction to detail the university experience in its true form is too late.
Monday - 14.55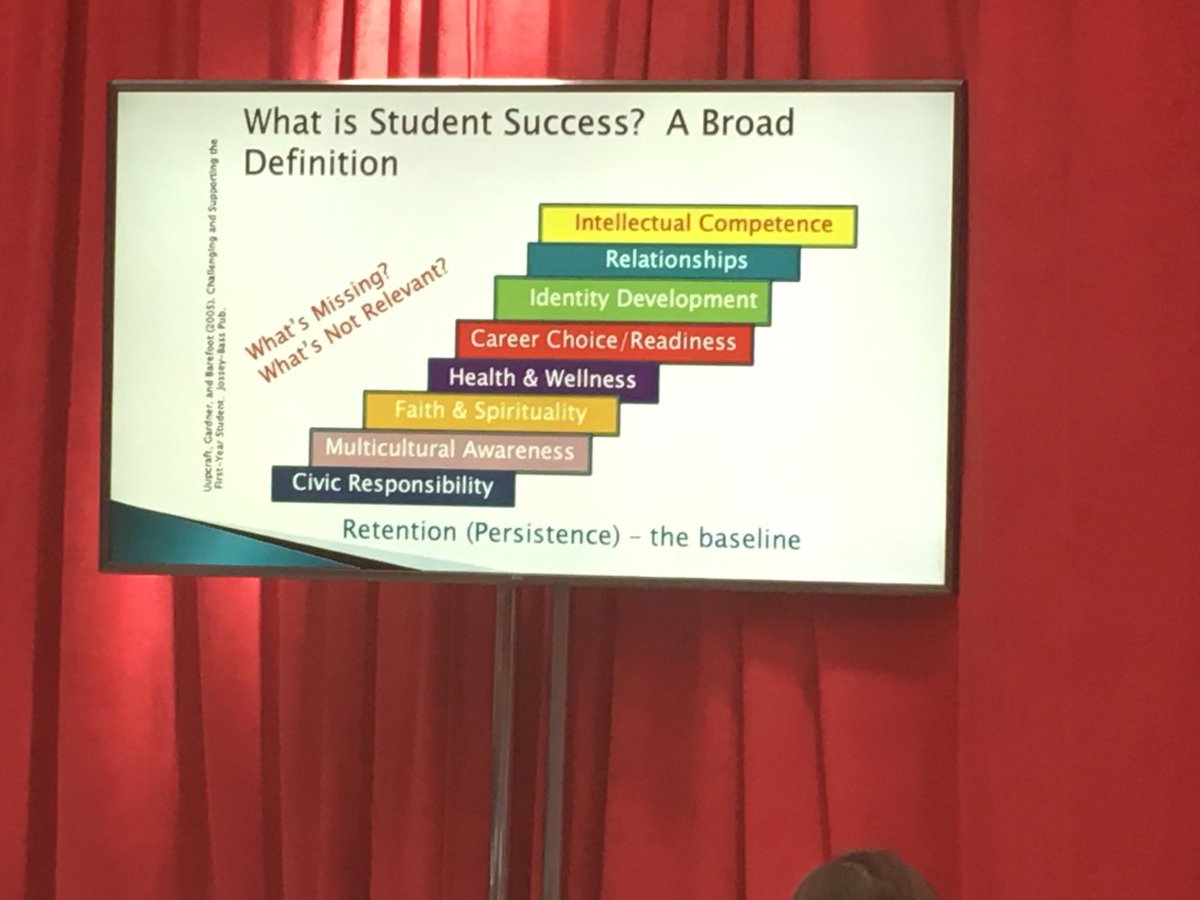 Really interesting slide about what Student Success is. The personal connection in my opinion is so valuable, and whilst we will never have a detailed relationship with all our students, if we can just help out a couple each, it can make a big difference.
At Birmingham City University, we ran a scheme called Take your Tutor to Coffee. This worked really well at breaking down some of the barriers between staff and students, and often didn't fall into a personal tutor / module tutor / support 'box'.
On a personal note, civic responsibility is so important as well, especially in the current world environment in which we live in.
Image courtesy of Sally Brown @ProfSallyBrown, because she is seemingly far closer to the projector than me!
Monday - 14.46
'It's not about what you do in terms of impressing people you don't know. It's about the people who you DO know.'
It's so true. Our students can see right through us if we don't put the effort in.
Monday - 14.40
Food for thought: Conferences has a uniqueness where we take photos of presentations / screens and constantly tweet.
If this was students in our classroom, how would we react to them doing the same?
Monday - 14.29
As I just posted on Twitter. The only thing which makes me sad about this conference is the fact that only 1% of the delegates seem to be 'non white'.
It's always a sticky conversation for me to bring up. I personally feel that we shouldn't see colour in our classrooms, but there are some aspects of university life which are very specific to some groups of students based upon gender, race, or religion. And often, relatability is important in understanding not only what these are, but also how these can be integrated and supported within the student learning experience.
I'm against gender / race balancing, as it is most certainly the views of the individuals that should go before the colour of skin or DNA. I would though love to see more BAME participation at these events!
Note: This is a higher percentage than an HEA conference I attended in 2017, where the topic was widening participation with 2 / 300 non white delegates in the room
Monday - 14.17
Positive Restlessness: Always looking for ways to do things better, more efficiently, and never stopping in terms of improvement. (Never stop improving is a Trademark of US company Lowes, so I had to rephrase!)
Sometimes positive restlessness is built into what I've been able to do. I've also had the issue where you're almost told to 'leave alone' the bits that work, and focus only on the negatives.
That being said, in everything I've taught and experienced at university, I've always valued fresh, re-imagined material. Our Welcome Week may seem new to some students, but when staff have been in the same tent for 7 years in a row, the boredom on their face translates directly to the students, no matter how hard you try and fake it!
Monday - 14.11
What do students expect of themselves and Higher Education? There's a Ph.D. thesis in there alone!
I think the key thing is the expectations of self learning. This though I feel is a systemic failure of UK pre-18 education, where it's become spoon feed for 6 hours a day, 5 days a week, rinse and repeat.
Monday - 14.02
How much has changed in the last 20 years in terms of Higher Education?
Is there / will there EVER be a full picture of the undergraduate experience?
Some interesting discussion as to the amount of negative press about the UG experience. Also about the amount of time spent on student learning depending on role. I know a lot of us are being forced to spend more time doing 'adminesque' tasks, meaning either time is lost in terms of teaching, or you end up having to spread the time available more thinly, meaning some of the quality gets lost (Ironically, the point about relationships in particular seems to be something which I find suffers first).
Monday - 13.54
Really interesting points made about the role of groups and sports in student's overall success in education >> leading to graduation. Of course, in America, whilst student athletes are more likely to graduate, they may end up starving thanks to the joys of the NCAA.
That being said, our keynote presenters are making some really useful points. First, each institution needs to define excellence in it's own way, as actually, the students who study there may also view excellence differently, especially where you have a high number of students who are the first in the family to goto university etc.
The point about student groups is also important. I personally gained more out of university through being a part of a student group (Student Radio) in terms of development and student pride, than I ever did amongst my own cohort. For some students (Commuter), this may also be the only interaction they get outside of the classroom that provides the 'uni' experience.
Monday - 13.41
Hello!
This live blog will be used to present some of my thoughts and findings from the 2019 European First Year Experience conference, being held in Cork, Ireland. This is my 4th year attending / presenting at the conference, and one which I always find exciting, both in terms of sharing our practice, and learning from perspectives from around the world.
This year, I am presenting a paper session considering the role of app based technology in supporting student engagement and communication. Our session is the result of over a year's work developing and rolling out two complimentary technologies at Birmingham City University, developed in partnership with Tandem Labs.
Our session (2.10 – Paper), takes place at 4:45PM. This was supposed to be in room B212, but we've just found out it is now moved to room B240.
(Maybe) see you there!